Coder Girls: Pair Programming Partner Search
---

Problem: The number of women in technology is alarmingly low at 26% (NCWIT, 2017). While pair programming a possible solution for this, there are no platforms to enable the search for a partner.
Skills: Sketching, Persona Creation, Design Synthesis, Brainstorming, Paper Prototyping, Usability Testing, User Flows, Wireframing, High Fidelity Prototyping
Solution: A web platform to enable partner search
Tools: Sketch, InVision, Pen and Paper
---
Problem Statement
The number of women technology is alarmingly low with only 26% of computing jobs being held by women (NCWIT, 2017). A lot of women leave the field due to lack of mentorship and network to tap into. The concept of pair-programming is the perfect solution for this problem as it not only helps improve skills and boost confidence, it also builds a network of women in technology.
However, women often face difficulties in finding partners to pair program with. There is no dedicated platform to support this search and the existing platforms have mostly male users. To tackle this problem, I have created a Web Application called Coder Girls which allows users to search for pair programming partners.
Process

User Research Interviews
What are users looking for when seeking pair programming partners?
I conducted 5 user interviews of women in computer science (students and industry professionals) who have pair-programmed in the past. While all of them enjoyed the process when done in class/for work, most of them had never tried it outside of class/work because it was difficult to find someone to pair with, who had similar interests and proficiencies as them.
These interviews gave me key insights about the need for a partner search platform. I also understood the motivation of my users through this process, with most users wanting this platform when they are preparing for interviews/exams or when they are just starting to learn a new coding language.
Comparitive Analysis
How are users currently searching for Pair Programming Partners?
I looked at the three most popular coding-partner search alternatives currently existing and compared their features, pros, and cons. The competitors included a Badge (pairprogramwith.me), a twitter hashtag (#pairwithme), and meetup.com.

The two major gaps in the existing systems were the lack of resources for in-person (not remote) partner search and the lack of proficiency information across the board. In the user interviews I had found that skill levels were a key criteria for users when searching for partners.
Persona
Who is our target user?
Based on the interviews, I created an empathy map for each persona involving their Needs, Goals and Motivations, Tasks, Feelings, Pain Points, and Influences. This helped me organize their information into Behaviour, Needs, Goals/ Motivation and Personality. Adding their demographics and a personal quote brought them to life. I could empathise with these personas and create a meaningful product for my users.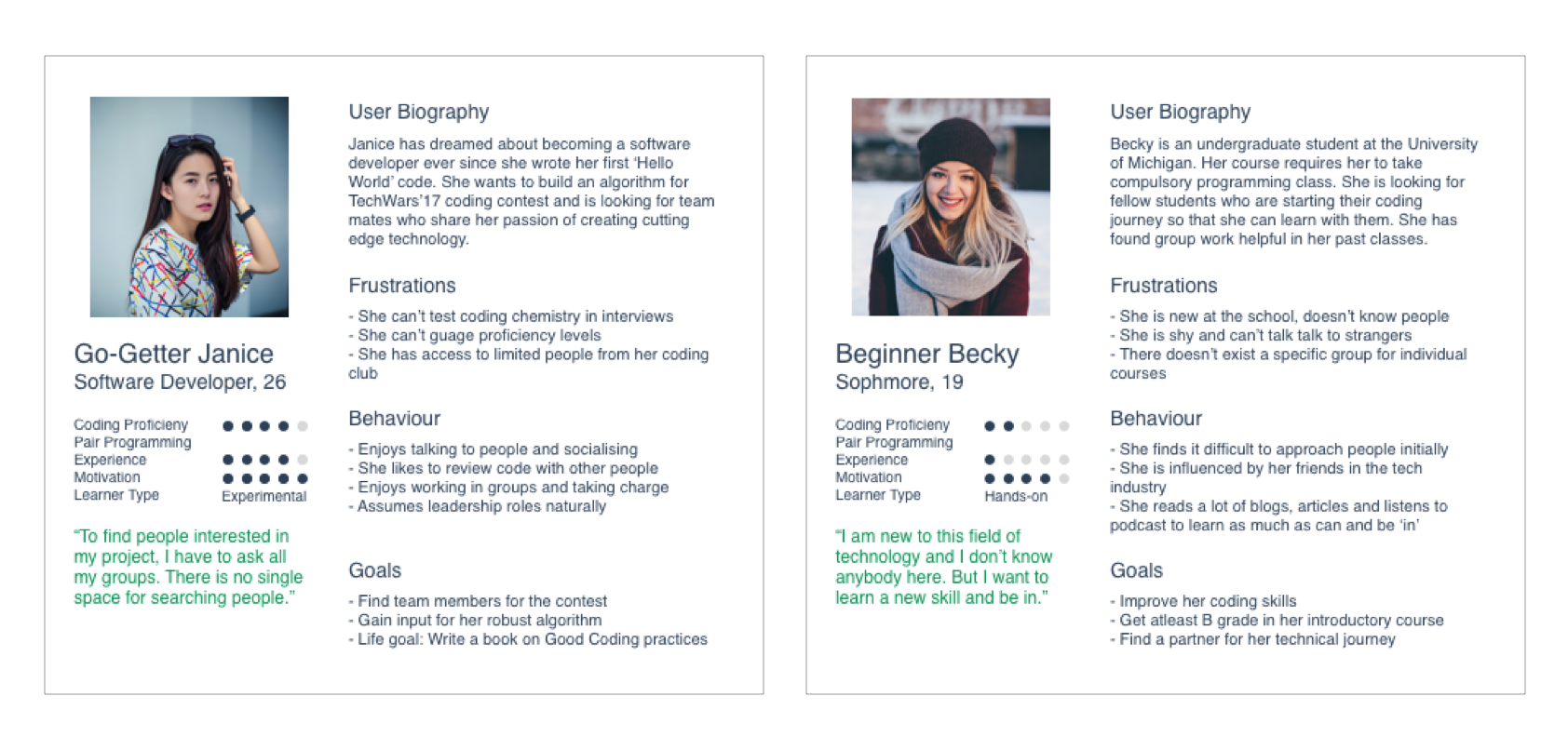 Sketching
What are the possible solutions to help our users?
Having gained an understanding of who the users were and what they needed, I started brainstorminging a few possible solutions to the problem and expanded them to include storyboards for each. This helped me explore a range of solutions, from physical to mixed reality:
Using a band that lights up when users cross paths, using a dedicated app, fast-switching hackathons, adding badges on LinkedIn profiles, using existing social media networks and posting on MOOCs discussion boards were some of them. (Each storyboard can be read top to bottom)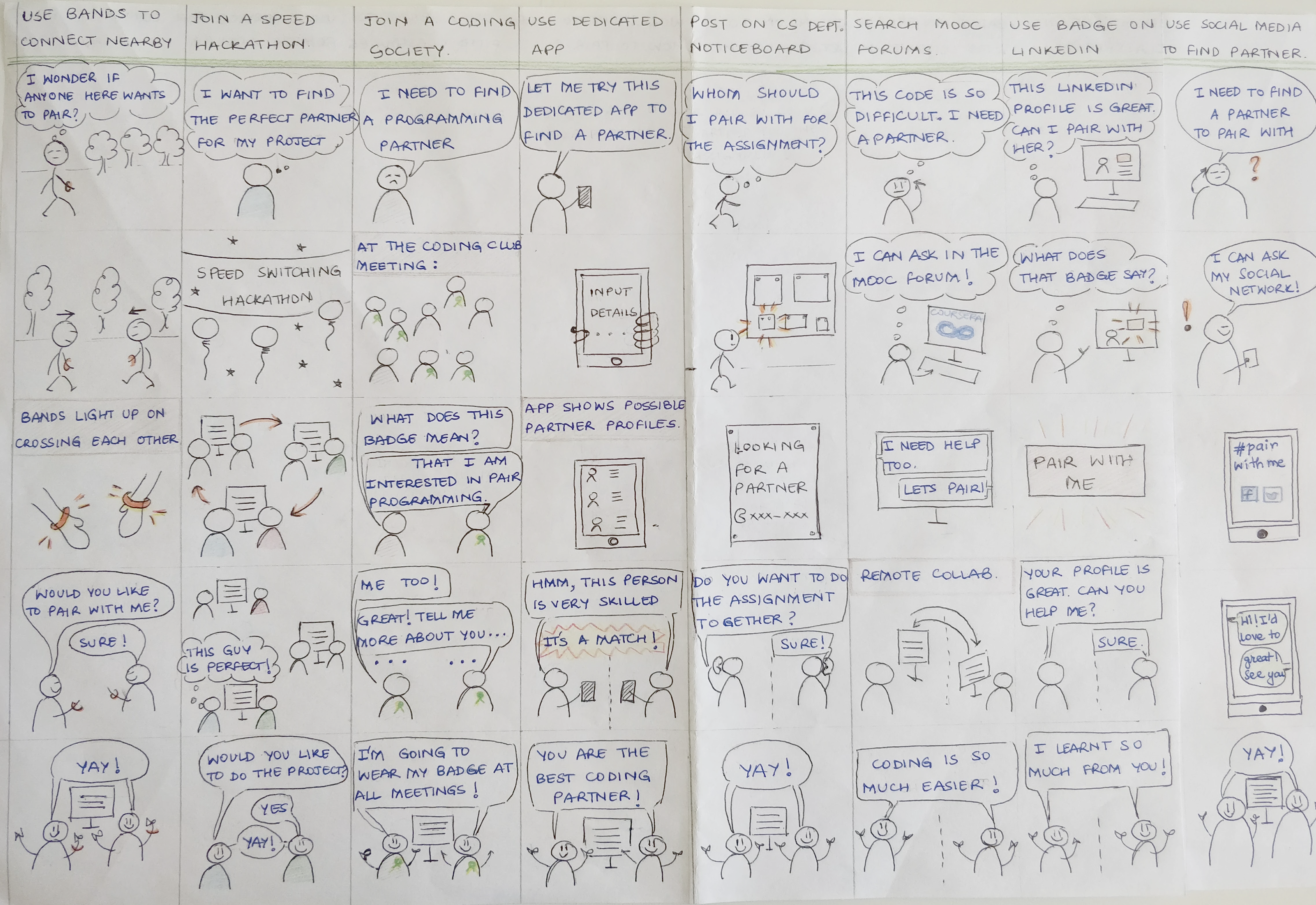 The solutions were then evaluated for feasability. I chose the 'dedicated application' solution as it fulfilled the problem need of supporting remote and in-person partner search both, in addition to other advantages such as accessbility.
QOC Design synthesis and Design defence
Going forward with the application, I identified one critical feature and explored three solutions of this feature. The most critical feature for this project is search - how a user searches, what is returned in the search, how the search list is presented, what is the order of the list and other such questions. I came up with possible ways to achieve these tasks and analyses each approach against a set of criteria particular to that question.
This helped me determine major design decisions such as forced login to allow customization, profile creation to deliver rich results in searches by other users, ordering searches by matching interests to increase chances of a match and using in-app messaging for contact between two users for ease of use and quick response time. The detailed questions, options, and criteria used for each question are shown in the diagrams below.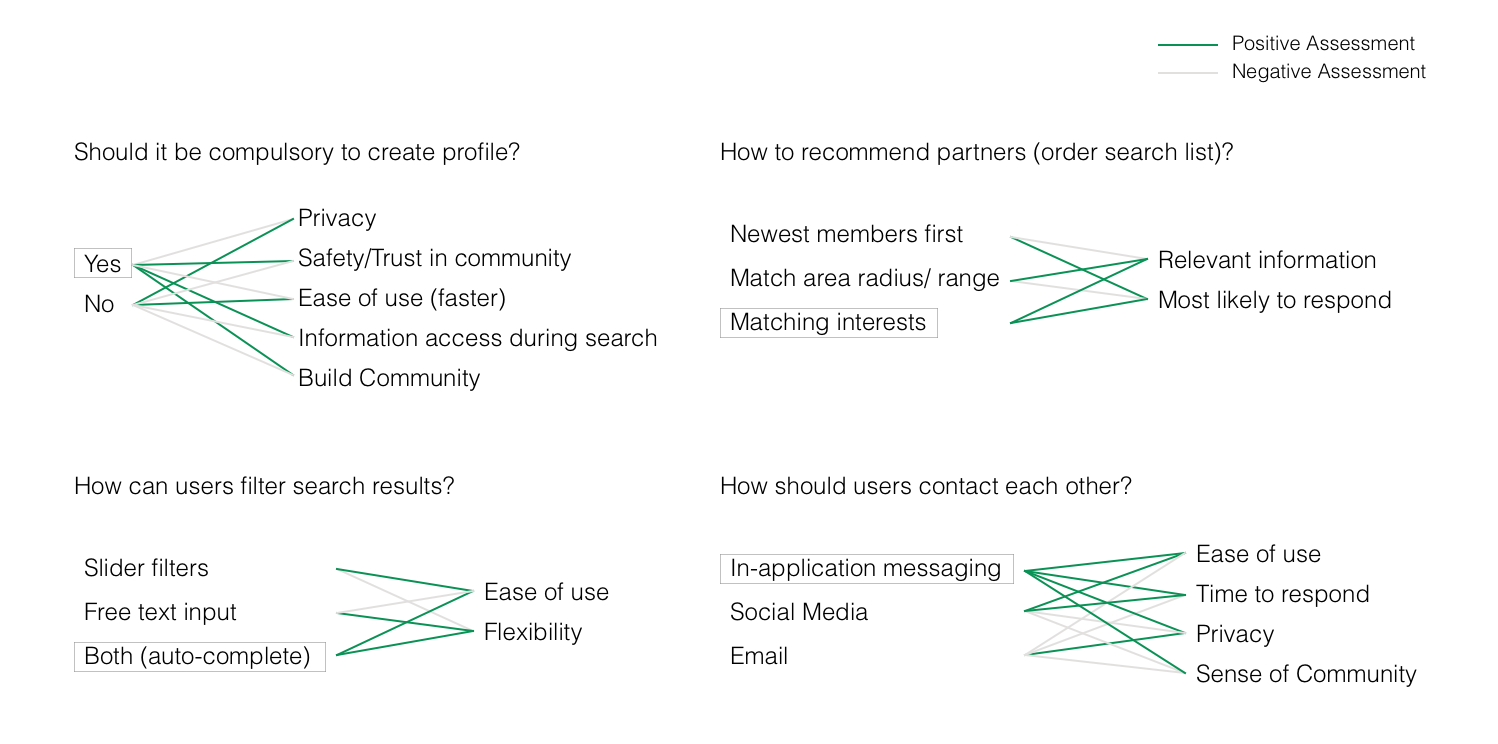 Paper Prototyping
Paper prototyping was a quick, easy and inexpensive method to get feedback on my design. I tested the prototype with real users and discovered that I hadn't included the feature to edit profile. I also learned that adding LinkedIn login was much appreciated by most users as it reduced their onboarding time. Another hurdle I found in my design was that because of the position of filters, users tended to believe that all of them had to be selected to filter search results. I changed this to a universal search bar to avoid confusion. I gained a lot of constructive feedback in this process and re-iterated over my design to incorporate the insights gained from it.
Paper Prototype Link
Search options (sidebar filters) in Paper Prototype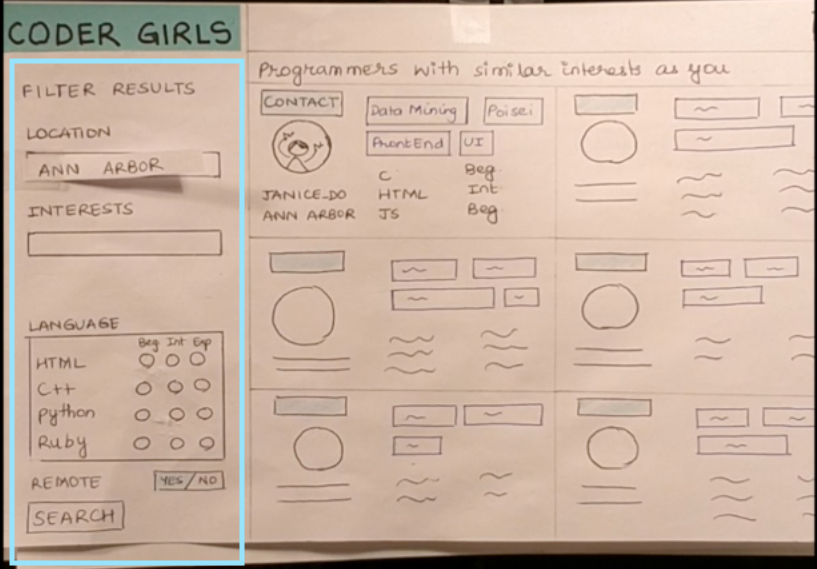 Search bar in Digital Prototype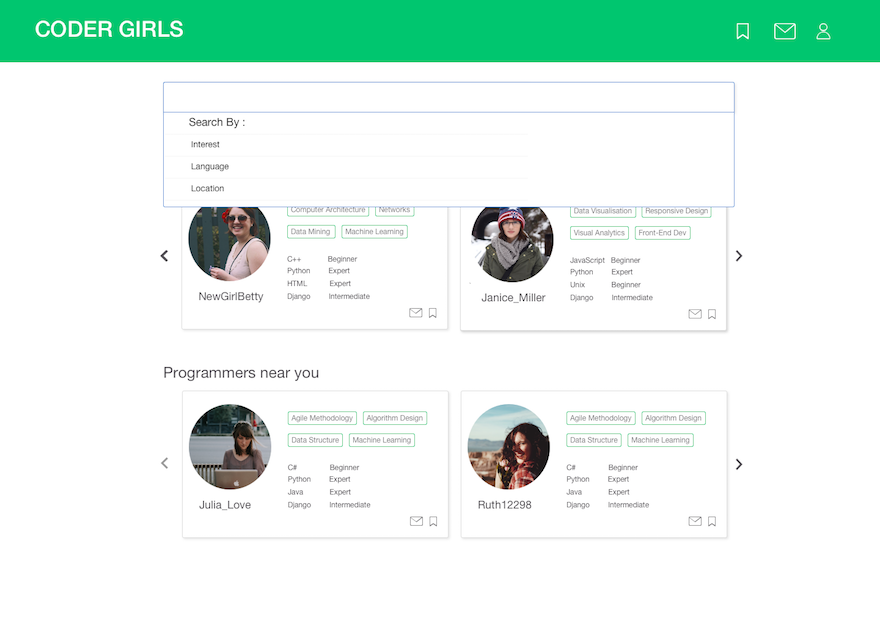 Wireframing and User Flow
Incorportating the changes from the Paper Prototyping feedback, I mapped out the user flows for the entire application and created wireframes. This instigated me to think about the information architecture of the application and simplify some user paths. The main pages were Onboarding(Creating a Profile), Search, User Profile and Chat. The wireframes were employed while building the digital prototype.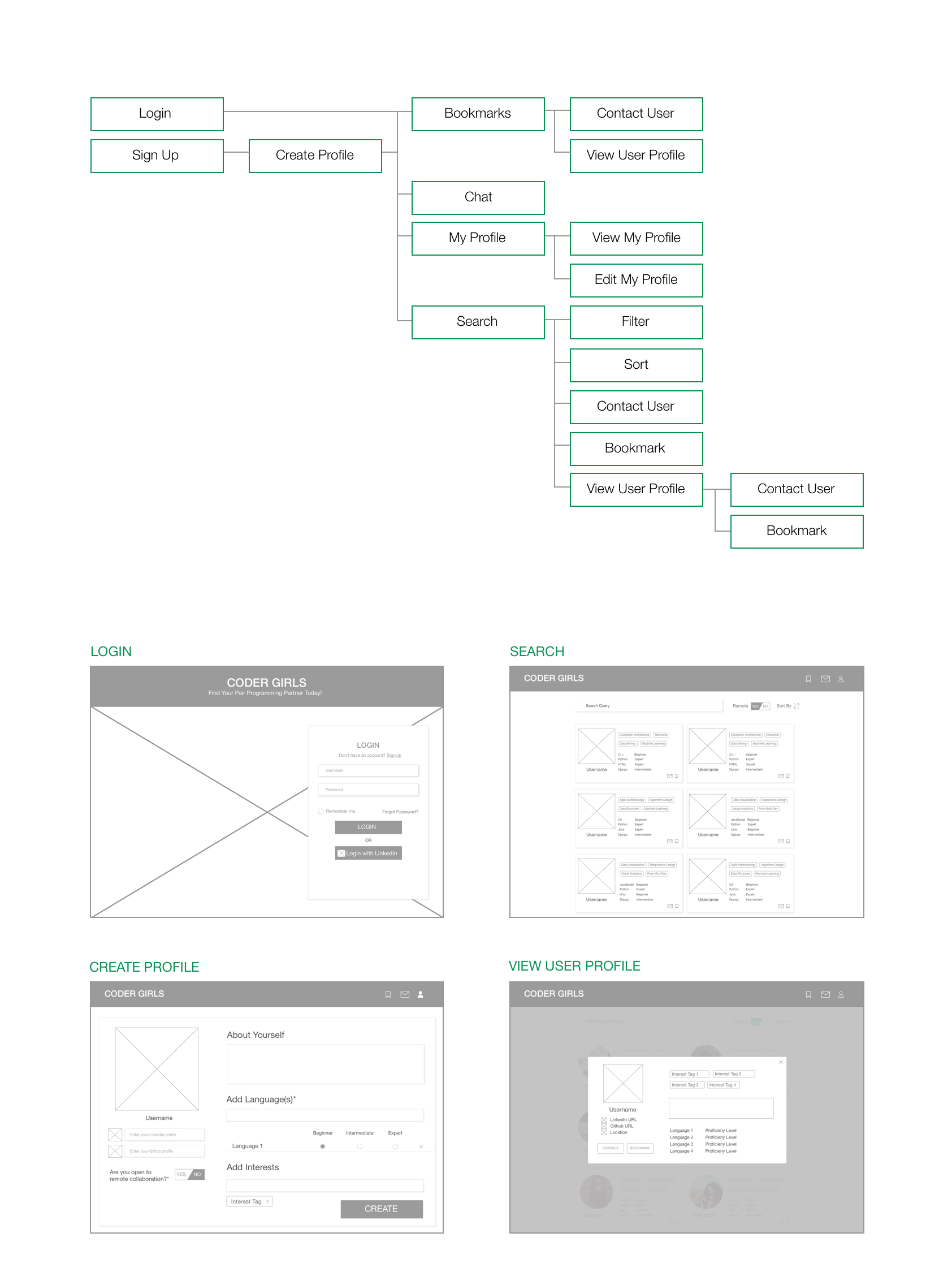 High Fidelity Prototyping
I created each screen in Sketch and strung them together in a workflow in InVision. In the course of this, I did comparative feature analysis on the search bar and decided to change the universal search to include categories. I also added a 'Suggested Matches' area on the search page to increase user engagement. The high fidelity prototpye allowed users to provide specific feedback about areas of confusion. For example, some users were confused on how to save people for future reference, this resulted in the addition of a 'bookmark' feature on the user profile.
I chose to use Material UI guidelines for this project as it gave a modern feel to the application and the user is comfortable with it (positive transfer from using other services on the internet).

You can play with the prototype here. I look forward to your suggestions!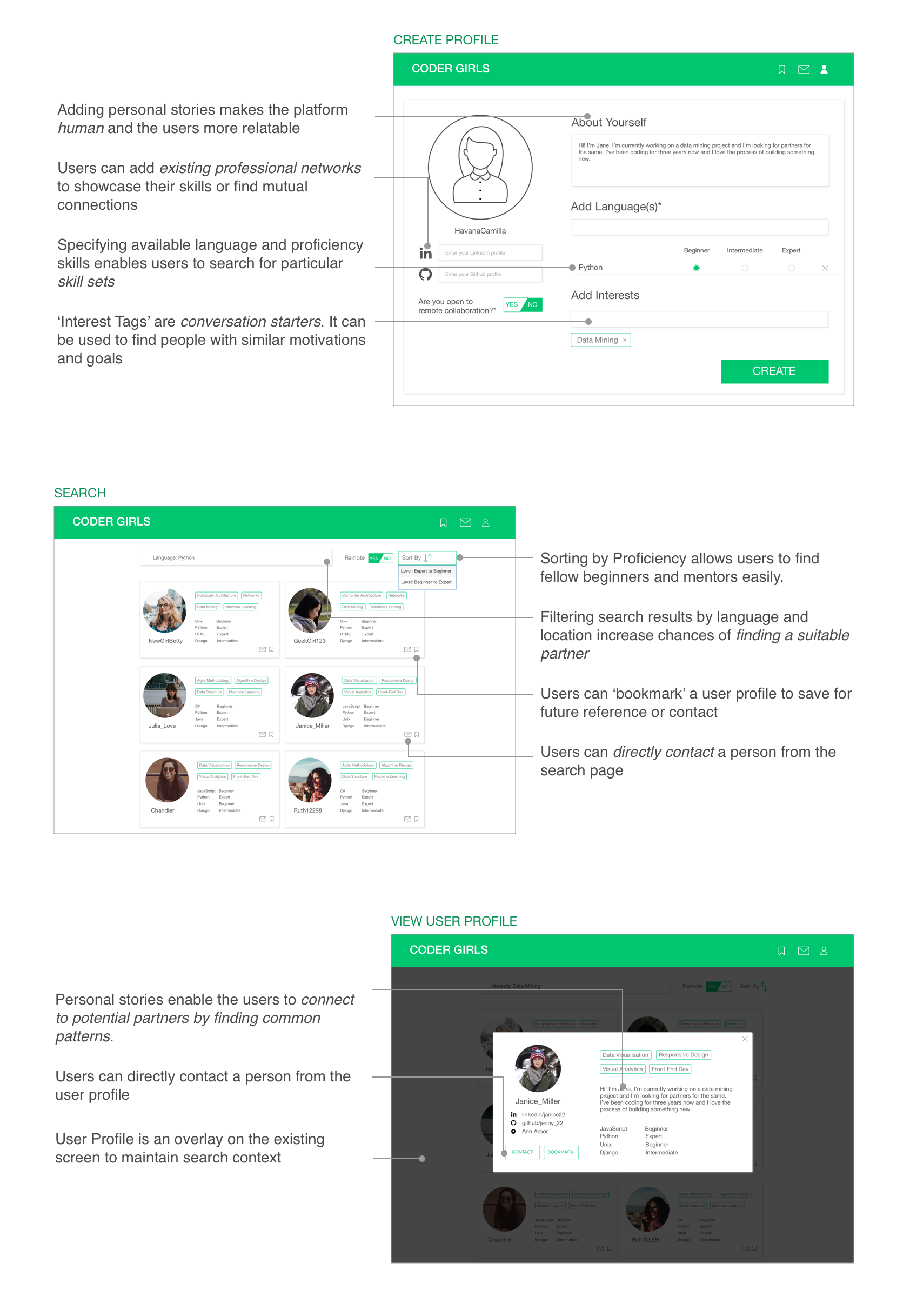 Participatory and Social Interaction Design
Through the course of this project, I explored multiple design approaches, such as reflective, participatory and value sensitive design. For a topic that involved gender inclusion and coding, I found the participatory design process to be the most helpful. The target user had a lot of tacit knowledge and pain points that aided the design. Since the platform involved social interaction, I used concepts such as 'multiple selves' to enhance the experience of belonging to a community.
Reflections
Over the course of the project I realized the importance of involving the user in the process. Often, what I as a designer assumed to be obvious, was not the case. I also learned to iterate over my designs. This process lead to small tiny steps towards improvement, and before I realised it, my product looked much neater and had a much smoother user experience than what I had set out to achieve. However, if I could change one thing, it would be my user research. I'm afraid I might have a slight sampling bias here since my dataset was very limited. In the future, I will interview more users and perhaps also interview anti-users. I would also like to use a tool like Framer.js/ Proto.io to include microinteractions in my prototype since I believe they will deliver the exact feel of the product. Overall, this project taught me a lot about thinking from the users perspective and using my findings to create a better experience!